It's been almost a whole month since my last Friday Faves. I'm such a slacker! I've renamed it to Friday Finds, as these are all blogs, Youtube Videos, links, etc etc that I recently discovered . . . or in some cases, rediscovered.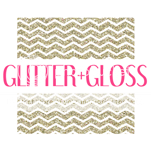 Not only is Heather the mom to two of the most adorable little girls but she runs her own online shop, and has a gorgeous blog where she hosts Mani Mondays.
From My Grey Desk

I have been following Lauren's blog for a while because I just love her causal. She is so chic and pulled together, yet casual. She also hosts the very popular link-up High Five for Friday. I also recently discovered that her sister is the pinterest hair girl who also has a blog and youtube channel.
B. You is a great resource for any blogger. A collaborative between multiple bloggers, they share tons to tips and info to use on your own blog. From starting a blog, to adding a Pin It button to images, to choosing the best camera for your blog, you can find tons of information to apply to your own little corner of the information super highway. They have also recently started up a Thursday Bloglovin hop, so make sure you link up each Thursday!
Milk Bubble Tea
I just love everything about Becky's blog. Everything about it is so beautiful; I get a HUGE case of blog envy every time I stop by. I am obsessed!
I recently discovered, Sprinkle of Glitter and LOVE her! She is cute as button and I could watch her and her bestie Zoella all day long!
Since I mentioned her . . .
I have always associated Urban Outfitters with college age kids and probably wouldn't have thought to shop there, but I recently discovered that they have some really cute housewares and have found a tons of stuff on their site that I really kind of want. (Like this and this and these and this)
I bought an Elaine Turner Leather Portfolio/Envelope/Case thing years ago for work and kind of just left it on a shelf in my office for a while before rediscovering it earlier this week. I kind of like it a lot and decided to google the brand and discovered just how much I love their accessories. I am trying to talk myself out of buying the Champagne E-Reader Case that is described to fit my iPad mini.
What are some of the sites you are enjoying this week?